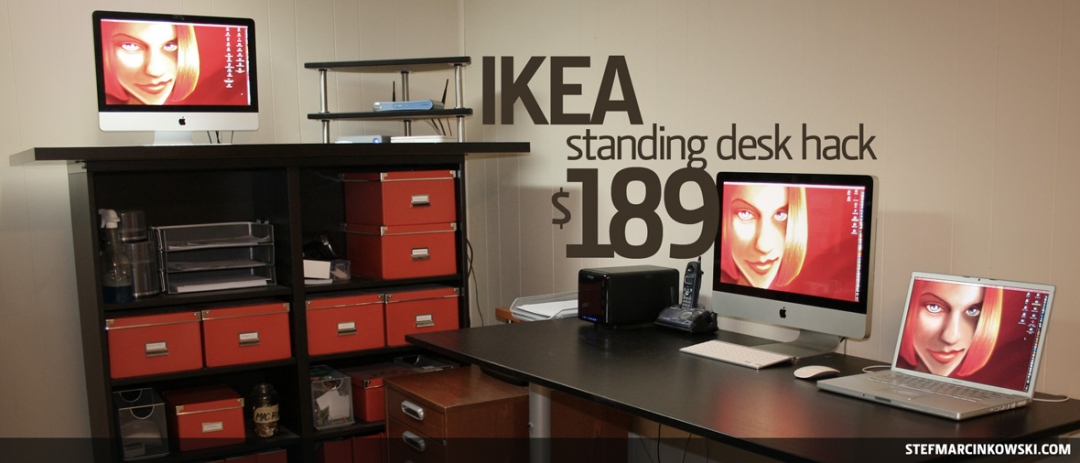 And killing me. I've been sitting in front of a computer for 12 hours a day for well over 10 years now, and my zombie corpse has been slowly falling apart because of it.
So earlier this year, I made it a personal mission to create myself a standing desk.
I was inspired by tons of great articles on Lifehacker and IKEAhackers, but I wanted something insanely cheap and really, really tall. We're talking 52" tall.
My design is really simple, and you too, can build your own IKEA standing desk in just a couple hours, and for less than $200.
Let's get started.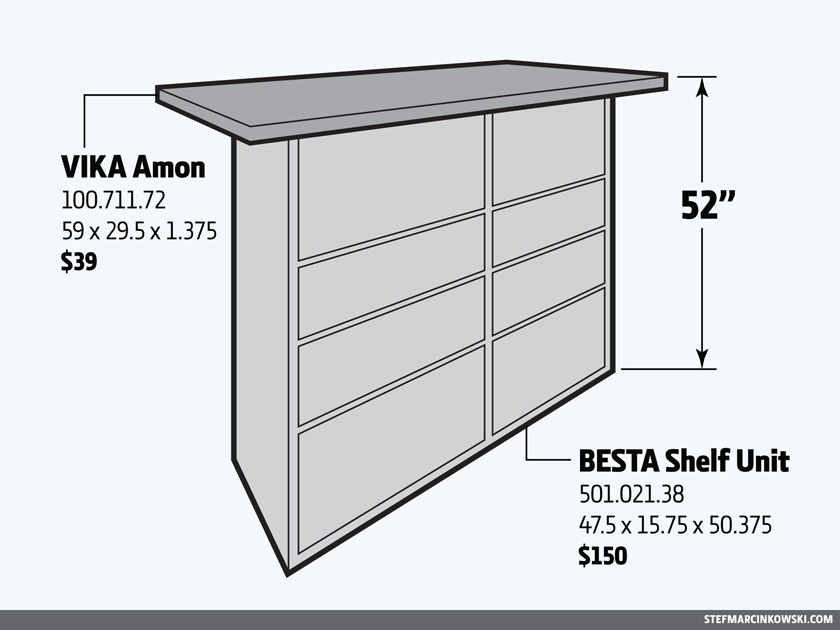 You'll need only a couple household L-brackets, some wood screws and two IKEA pieces: a VIKA Amon Table Top and a BESTA Shelf Unit.
Assemble your Shelf Unit as per instructions, then place your Table Top upside down on a flat, padded surface to measure and draw guide marks. I mounted my Table Top dead-center on my Shelf Unit, and if you do the same, yours will overhang the Shelf Unit front and rear by about 7" as well as left and right by about 5.75". Set your Table Top in final position atop your assembled Shelf Unit, make sure it lines up with your guide marks, then drill small holes into the Shelf Unit sides and Table Top bottom, about an inch back from the Shelf Unit's leading front edge. CAUTION: take care when drilling, as the Table Top is largely hollow and I nearly drilled right through mine. Closeup of my bracket detail below.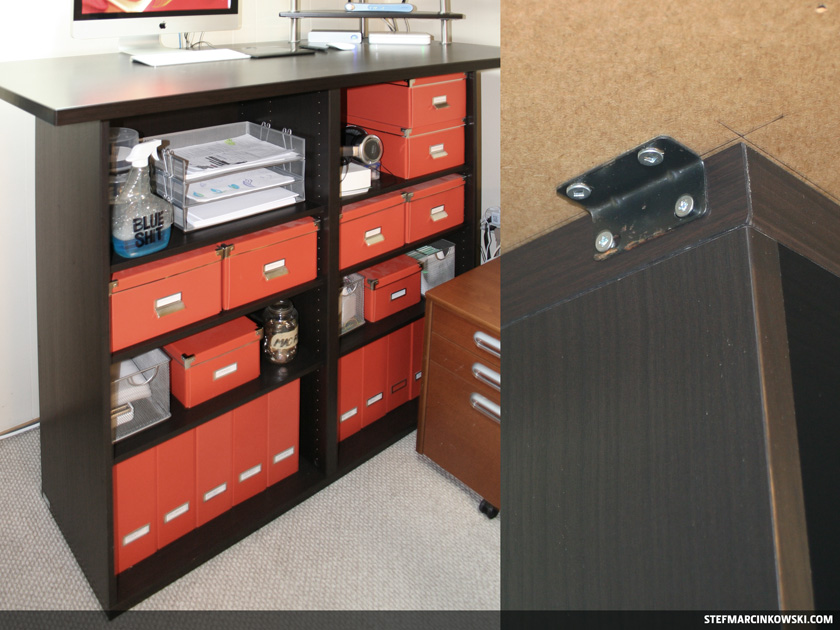 The standing desk's shelves are adjustable and the unit is quite sturdy once loaded full of stuff. I filled mine up with my existing orange IKEA cardboard storage and magazine boxes, which fit perfectly. I'm 5'10", and I like to sometimes lean and slouch on the desk to give my feet a rest. As a finishing touch, I used a few IKEA half moon desk pieces mounted to a few spare CAPITAs to house my modem, external drive and TimeCapsule.
Incorporating this new standing desk into my workflow has increased my mobility and strengthened my lower back, legs and calf muscles. Now, if only I can do something about this new, chronic numbness in my heels; I think something NEW is killing me.
Enjoy!